Home
Talk

4
325pages on
this wiki
Welcome to the All Points Bulletin Wiki!
The wiki about All Points Bulletin that anyone can edit.

Featured article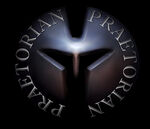 The Praetorians are run by a man named Justin Teng. He is an astute business genius, very knowledgeable, and has made serious amounts of money within the city of San Paro.
The Praetorians are like a corporate police force, backed by serious corporate money, and are very well equipped. Composed mostly of former military members, former Cops (being paid more for the same job), and normal do-gooder citizens. Read more...
Create blog post
News
Apr 18, 2012APB Reloaded Updated Product Update - Valve New Contacts - TipToe and Devil Dog! • Criminals get to meet TipToe, Tyron Sennet's long lost daughter. She's employed by the Blood Roses but runs with her own brood of elite sociopaths. She can be found hanging out on top of the APD car park …

Read more >

Apr 10, 2012 APB: Reloaded New Breed update will bring Radar Jammers, Tommy Guns and a brick PC Gamer [1] Gamers First have released the details of a huge new update for APB: Reloaded. Patch 1.7.0 is being called 'New Breed part 1' and will bring new weapons, new mods, new characters and new chall…

Read more >
See more >