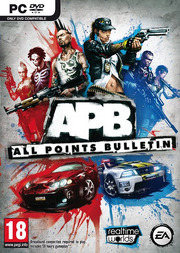 APB (All Points Bulletin) is a massively multiplayer online game for Microsoft Windows based in urban sprawls and featuring two factions, Enforcers and the Criminals. Players may join either the Enforcers or the Criminals, forming their own groups and clans. The game design was led by David Jones, creator of the original Grand Theft Auto and Crackdown, developed by Realtime Worlds, then acquired by Reloaded Productions, part of the GamersFirst company. It was released on June 29, 2010 in North America, followed by a July 1 release in Europe and July 2 in the United Kingdom. APB however is not a so-called Grand Theft Auto Killer like other games such as Saints Row.
On 11 November 2010 online games company, K2 Network, purchased APB for £1.5 million. No time frame for re-release or reactivation of servers was announced. On 16 November 2010 K2 subsidiary company Reloaded Productions, announced that APB will be relaunched during the first half of 2011 as a free to play game, renamed APB: Reloaded.
APB was planned as early as 2005, initially as a PC and Xbox 360 title, and intended as the flagship title for the then-newly founded Realtime Worlds studio. Later, it was planned that the Xbox 360 release would be in 2010. In the interim time, Realtime Worlds developed the video game Crackdown.
At the 2008 Game Developers Conference, David Jones confirmed that APB would still be released in 2008. He stated that APB would be more like a multiplayer online game as that players will likely only interact with up to 25 other players at the same time, and also noted that the game compares well to the typical style of fantasy or sci-fi "massively multiplayer online" games such as World of Warcraft, but by distancing the concept from the same type of gameplay, he does not expect to compete with those games.
On April 14, 2008, Realtime Worlds announced that it had raised 50 million United State dollars for APB and other future projects. In this same announcement and subsequent interviews, the company has stated that that game was now scheduled for release on Microsoft Windows in 2009, and with options for eventual versions on the Xbox 360.
On April 21, 2008, Realtime Worlds announced that it had reacquired the global distribution rights for APB, significantly amending the arrangement made in 2005 with Webzen Games.
In June 2008, Realtime Worlds Community Manager Chris 'Ulric' Dye announced that they had given the fan site "APB Evolved" 1000 British pounds to help secure their expansion and continued evolution as a key APB fan site.
In July 2009, EJ Moreland from Realtime Worlds made it clear that APB will be a PC release only for the first release, but they would be looking at the possibilities for a console version.
A closed beta (PC) for the game began on October 19, 2009.
On April 30, 2010, a press release was published by official fansite APB Evolved - which included a release date and pricing information. The game is due for release on June 29, 2010 in North America, July 1 in Mainland Europe and July 2 in the United Kingdom. A subscription-like system will be used, where players purchase game time for action districts, either by purchasing hours or by opting for an unlimited playtime option for 30 days. Players will be required to purchase a copy of the game, which will have an Suggested retail price of $49.99 in the United States, £34.99 in the United Kingdom and €49.99 in Europe, and will include 50 hours of initial game time. Both the game and the website will be available in French, German, Spanish, Italian, Russian and English.
On November 11, 2010, K2 Network purchased the intelectual rights for APB and 5 days days later the subsidairy company Reload Productions announced that
APB
will be converted to
APB Reloaded.
Reloaded Productions currently owns and developes APB Reloaded, which is published by Gamersfirst.
The game takes place in a modern-day, fictional city of San Paro where there is a constant battle between "Enforcers" and "Criminals", and the player will need to decide to which Faction they want to belong. The two sides battle over missions which are designed to match equal teams of opponents against one another with opposite goals. Players will find themselves on the offensive and defensive performing missions which grace the functionality of popular team shooter games, such as capture the flag, protect the VIP, keep away and others; Yet the complexities added to the game by the sprawling urban environment, combat versus other human players, and different types of weapons and vehicles make the missions fun and diverse within themselves.
Missions and other activities (bounties, muggings, thefts, etc.) generate cash for the player, which may be spent on vehicles, weapons, equipment or even in the Marketplace buying customized goods created by other players. As an example, several Criminal players may rob a convenience store within the game; the game will then seek out one or more Law Enforcement players of equivalent skills and other criteria, and will issue an all-points bulletin for them to stop the robbery.
APB also claims it will be the first Massively multiplayer online game title where the player's skill determines the character's progression, as opposed to the normal model of time investment.
At GDC 2009 it was announced that Vivox would be providing voice chat for the game, the software allows players to customize the voice of their characters with voice fonts, and also to communicate using 3D positional audio. Players enjoy an ability to talk to nearby people, from both factions and communicate quickly and tactically within a group.
It has also been revealed that you will be able to synchronize music from your hard drive to the in-game radio. If another player own the same song being played, it will appear as an ambient sound from your car. However, if the player in question does not own the song: Last.fm will automatically match the track with any similar artist.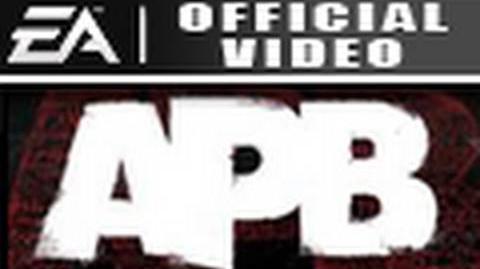 The lead music for the trailer and showcases of APB is by Audio Bullys and called "Gimme That Punk (12 Inch Mix)" released on Vizo Records, the Audio Bullys' own label in 2008.
A second official trailer was released with the soundtrack "Johnny Got A Boom Boom" by Imelda May.
External links
Edit